Advertisements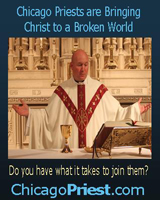 June 21, 2009
Court says priest can't sue accusers for defamation
When the First District of the Illinois Appellate Court ruled June 10 that Father Robert Stepek could not sue two men who accused him of sexual abuse for defamation, it was a victory both for the First Amendment's guarantee of free exercise of religion and for the rights of victims of sexual abuse by clergy, according to attorneys for the Archdiocese of Chicago.
"The Archdiocese of Chicago supports this important decision regarding the protection of children," according to a June 10 statement. "The court agreed with the archdiocese that a person has the right to bring child sexual abuse allegations to the Review Board without fear of a defamation lawsuit.
"Equally important, the court reaffirmed that, under the First Amendment, a church has the exclusive right to determine for itself who shall be its ministers and to communicate freely in making that determination."
"The court has no jurisdiction over what is said inside the walls of the church's internal disciplinary proceedings," said James Geoly, an attorney representing the archdiocese. "You have a right to go to your church and say anything and not face a defamation suit. The whole viability of our child-protection system was at stake."
Stepek was serving as pastor of St. Albert the Great Parish in Burbank in May 2006 when two brothers, now adults, told an archdiocesan representative that he had abused them in the early 1980s when he was assigned to St. Symphorosa Parish on Chicago's Southwest Side.
Stepek was asked to step away from the parish while an investigation proceeded — which he did voluntarily. In November 2006, the archdiocese announced that the independent review board had found reasonable cause to suspect that the abuse took place, and sent his case to the Vatican's Congregation of the Doctrine of the Faith.
The same month, Stepek sued two brothers for defamation, saying they had destroyed his reputation because of a "vendetta." The brothers then filed a claim against the archdiocese, saying that if they were held liable for what they said to the archdiocese's professional review board, the archdiocese should pay the damages.
The brothers also filed a countersuit for damages against Stepek.
As the three suits proceeded, the archdiocese filed a motion to dismiss Stepek's defamation suit on the grounds that it is unconstitutional for the courts to weigh in on matters of internal church management.
Cook County Circuit Court Judge Diane Larsen denied the motion, and denied the archdiocese's request for the right to appeal that denial. So the archdiocese took the matter to the Illinois Supreme Court, which directed Larsen to allow the archdiocese to appeal her decision.
Having the state Supreme Court intervene in such a way is "very rare," Geoly said.
The June 10 appellate court ruling agreed with the archdiocese that it is unconstitutional for the court to rule on the matter because "the church has the right to choose its own ministers," according to the archdiocese's statement.