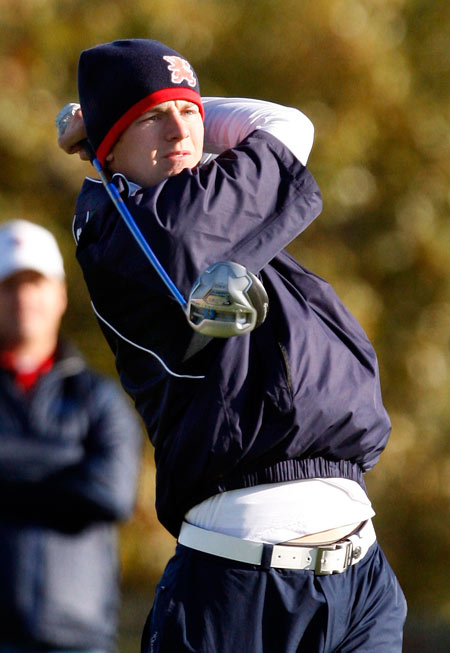 John Carlson, a senior at St. Viator High School in Arlington Heights, tees off in the Class 3A IHSA golf state finals in Bloomington, Illinois, on Oct.16. (John Smierciak/Catholic New World)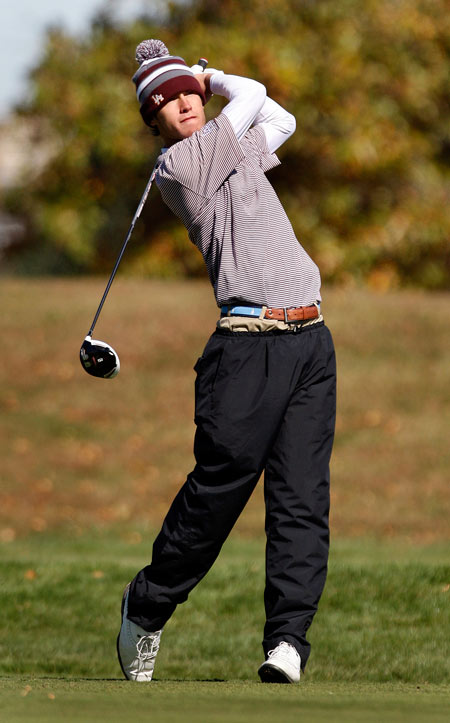 John Kryscio, a sophomore at Loyola Academy in Wilmette, tees off in the Class 3A IHSA golf state finals in Bloomington on Oct.16. (John Smierciak/Catholic New World)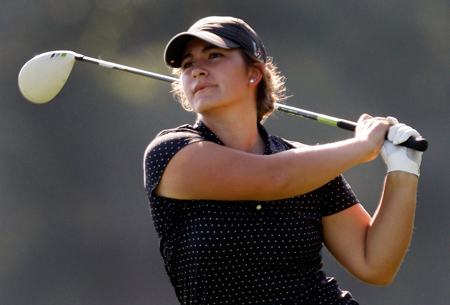 Mira Nicpon of Marian Catholic tees off during the girls Class AA Marian Catholic Golf Regional. The tournament took place at the Lincoln Oaks Golf Course in Crete, Illinois, on Oct. 6. (John Smierciak/Catholic New World)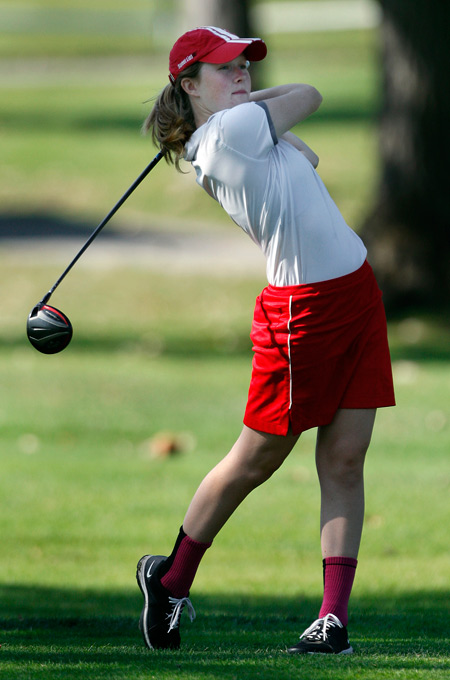 Casey Hogan of Mother McAuley High School tees off during the tournament. (John Smierciak/Catholic New World)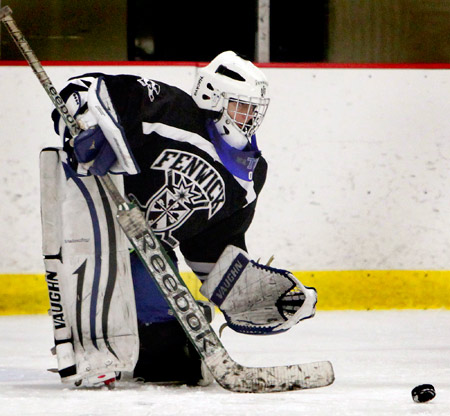 Girls' teams hit the ice to play high school hockey
There's a certain stereotype about ice hockey, and about hockey players: It's a tough game, and it's physical. You can't play hockey without being willing to dole out — and take — some punishment. The stereotypical hockey player is big, and maybe doesn't have all his teeth.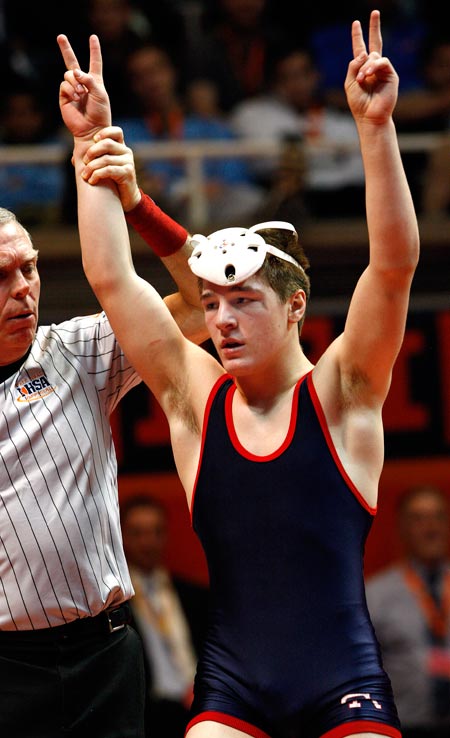 St. Rita senior Austin O'Connor raises up two fingers after winning his second state wrestling championship. O'Connor took first place in the Class 3A 132 lb. weight class on Feb. 21 in the individual IHSA State Finals at the State Farm Center at the University of Illinois in Champaign, Ilinois. (John Smierciak/Catholic New World)
All give-and-go as seminarians meet to compete
At first glance, the basketball tournament held in the gym at Mundelein Seminary the weekend of Jan. 3, 20151 looked like any other amateur men's league except with one difference — all of the players were discerning a call to the priesthood.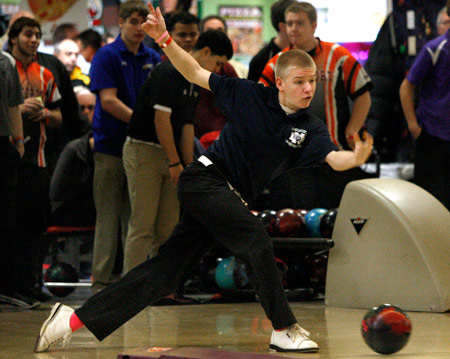 Tom Ochal, a junior at Notre Dame College Prep in Niles, bowls in the Illinois High School Association's State Finals at the St. Clair Bowl in O'Fallon, Illinois, on Jan. 31, 2015. Ochal took second place in the individuals category. (John Smierciak/Catholic New World)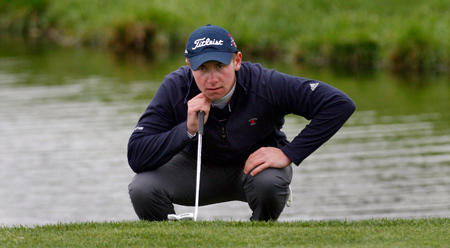 Nick Carlson, a senior at St. Viator High School in Arlington Heights, lines up his putt on the 14th green. Carlson played in the Class 3A Illinois High School Association's boys' golf state finals on Oct. 18 in Bloomington, Illinois. (John Smierciak / Catholic New World)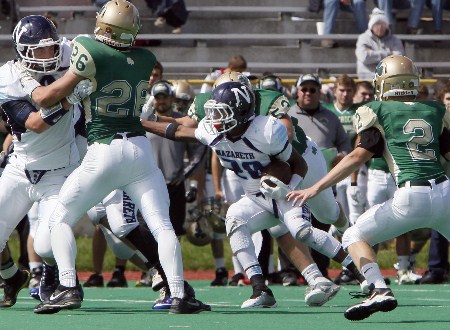 Varsity Football - Nazareth Academy vs. St. Patrick High School, September 13, 2014
Nazareth Academy traveled from La Grange Park to meet up against St. Patrick High School in varsity football action at Hanson Stadium in Chicago on Sept. 13, 2014. The Road Runners kept their undefeated season alive with a 52-27 win over the Shamrocks in week three of play. This was St. Patrick's first loss of the season. (Photos by Karen Callaway)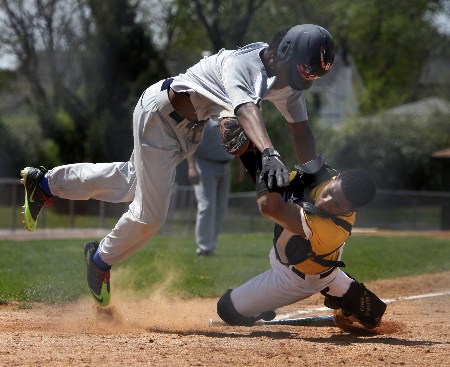 Varsity Baseball - St. Francis De Sales vs. Seton Academy, May 10, 2014
St. Francis De Sales High School came out on top against Seton Academy in a close varsity conference game at Gouwens Park in South Holland on May 10. The Pioneers defeated the Sting 12-10 in extra innings. (Photos by Karen Callaway)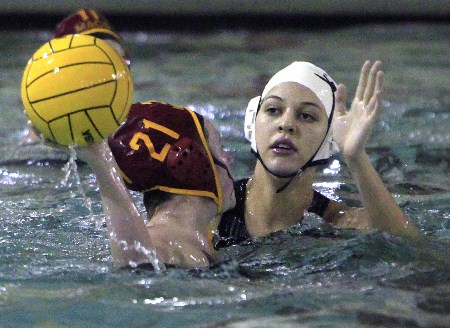 Girls Water Polo - Mother McAuley vs. Marian Catholic, April 14, 2014
Mother McAuley defeated Marian Catholic 13-5 in a varsity conference water polo match on April 14 at Brother Rice. (Photos by Karen Callaway)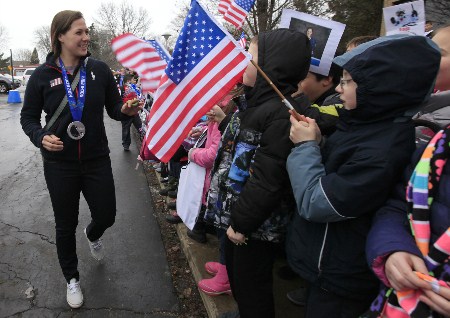 Olympian returns home
Winter Olympian Megan Bozek, an alumna of St. Mary School in Buffalo Grove, returned to her hometown in Illinois to talk to the students, answer questions, pose for pictures and thank them for the video they made wishing her luck prior to the Olympics. Bozek played defense for the U.S. women's hockey team, which won silver last month during the Winter Olympics in Sochi, Russia. (Photos by Karen Callaway)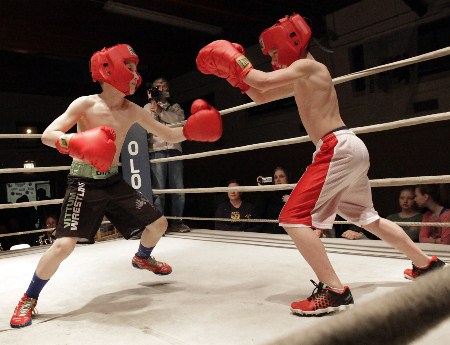 Rock the House
Our Lady of the Ridge Men's Club's annual pre-Lenten Boxing Show "Rock the House" in Chicago Ridge took place on March 1. The event has been a tradition at the parish for more than 50 years and benefits the school's athletic programs. All participants receive a first-place ribbons. (Photos by Karen Callaway)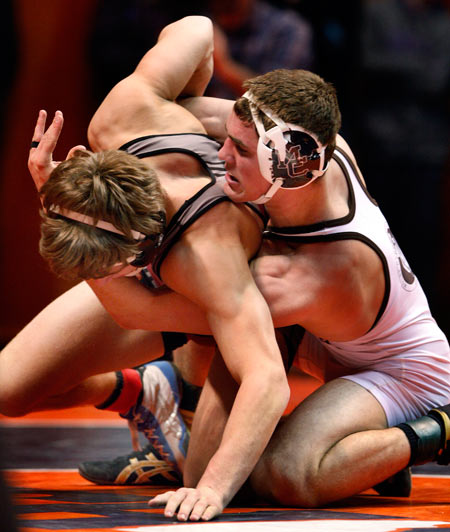 Mount Carmel senior Bryce Brill (white uniform) puts a hold on Belleville West's Nate Higgins. Brill went on to win his third Class 3A IHSA Wrestling title in the 152-lb bracket on Feb. 22. Finals were held at the University of Illinois in Champaign, Ill. (John Smierciak/Catholic New World)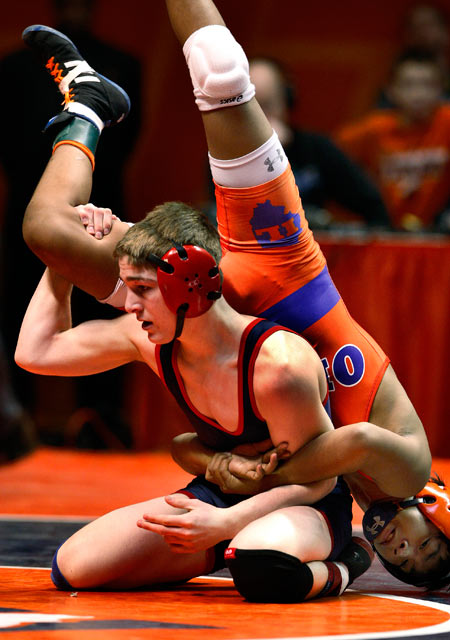 St. Rita freshman Austin O'Connor flips Oak Park-River Forest's Jason Renteria over his back in the Class 3A IHSA Wrestling Championship match. O'Connor won first place in the 106-lb. bracket. (John Smierciak/Catholic New World)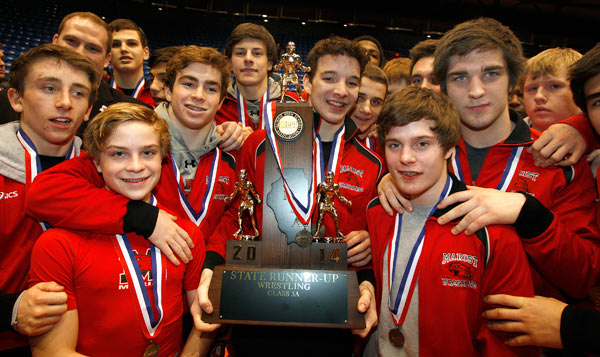 Marist High School wrestlers walk off of the mat after they received their IHSA Class 3A second-place trophy in state finals for dual team wrestling. The event took place March 1 in Bloomington, Ill., with Marist losing to Oak Park-River Forest. Oak Park-River Forest is ranked No. 2 nationally by InterMatWrestle.com and beat Marist 31-22 in the Class 3A final. (John Smierciak/Catholic New World)
Jack Zabilka from the Everest Academy Knights makes his way past a group of St. Joseph defenders from Manhattan, Ill., as both the academy's girls and boys basketball teams competed during "Pack the House" at Everest Academy in Lemont on Jan 9. Alumni returned for the event to engage in a variety of activities in between games. This was the first year for the event and the first time Everest has had a girls basketball team. (Karen Callaway/Catholic New World)
Jonathan Henzie, from Everest, gives some advice to his team during a break in the action. (Karen Callaway/Catholic New World)
Nina Polivka, a sixth-grader at Everest keeps the ball away from a St. Denis defender. (Karen Callaway/Catholic New World)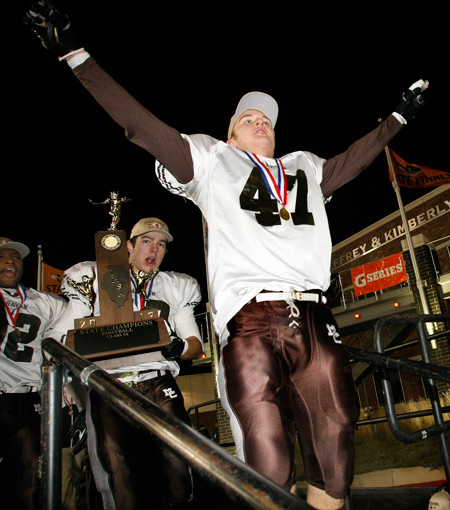 On Nov. 30, Mount Carmel's Bob Brophy leads the team's captains along with their first-place trophy from the awards stage after beating Lake Zurich 30-0 in the Class 7A state football championship at Northern Illinois University in DeKalb, Ill. This was coach Frank Lenti's 11th championship in 30 seasons. (John Smierciak/Catholic New World)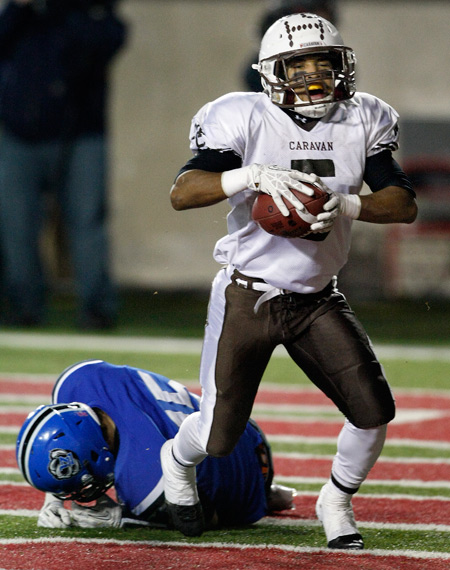 Mt. Carmel's Christian Searles scores against Lake Zurich in the second quarter of the Class 7A state football championship at Northern Illinois University in DeKalb, Il. In beating Lake Zurich 30-0, the Mt. Carmel Caravan handed coach Frank Lenti his eleventh championship in thirty seasons on Saturday, Nov. 30, 2013. (John Smierciak/Catholic New World)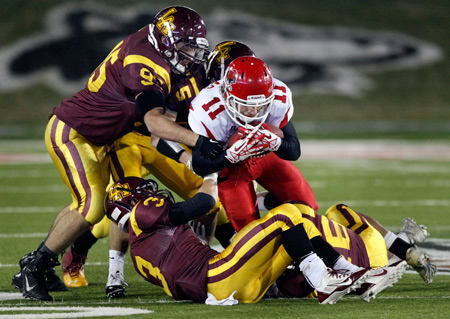 Loyola Academy's Tony Donofrio (3), John Kecki (95), Jack Gleason (5), and Johnny Burns (26) bring down Naperville Central's Ben Andreas (11), in the Class 8A Illinois State Football Championship at Northern Illinois University in DeKalb, Il. Naperville Central went on to beat Loyola Academy 13-10 on Saturday, Nov. 30, 2013. (John Smierciak/Catholic New World)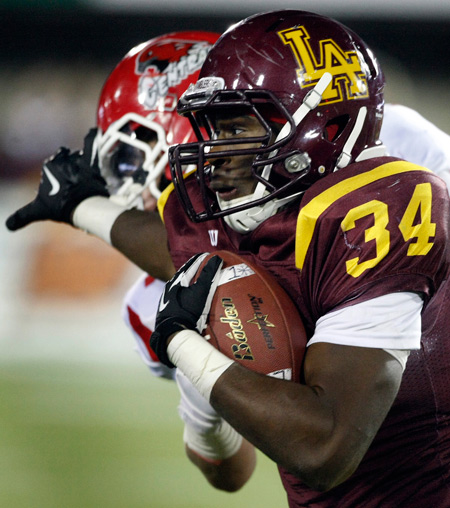 Loyola Academy's Julius Holley (34) stiff arms Naperville Central's Bobby McMillen (44)as Holley goes through the Redhawks' line in the Class 8A Illinois State Football Championship at Northern Illinois University in DeKalb, Il. Naperville Central went on to beat Loyola Academy 13-10 on Saturday, Nov. 30, 2013. (John Smierciak/Catholic New World)
Shanon Forst from Fenwick competes in the 100-yard breaststroke. Swimmers from several area Catholic High Schools (Loyola Academy, St. Ignatius, Mother McAuley, St. Viator and Fenwick) competed in the MCAC JV Conference hosted by Fenwick High School in Oak Park on Nov. 2.(Karen Callaway/Catholic New World)
Liza Prah, from Loyola Academy, competes in the 100 yard breaststroke. (Karen Callaway/Catholic New World)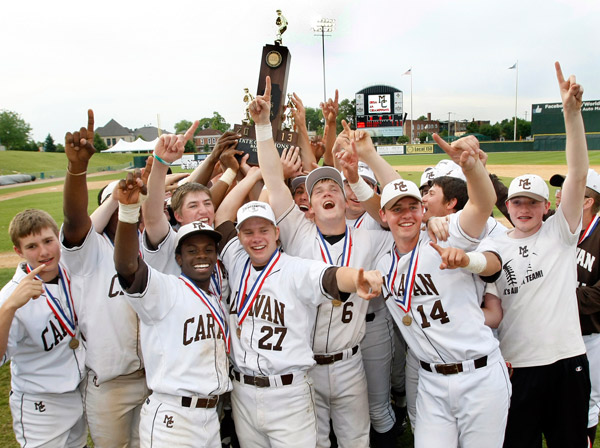 Mount Carmel champs in baseball: Mt. Carmel won the Class 4A state baseball tournament in Joliet, Il., on June 8, 2013 beating Libertyville 2-1. With the win, Mount Carmel finished 34-8 on the season. It was the 16th IHSA state title in school history, after 11 in football, three in wrestling and one in basketball. (John Smierciak/Catholic New World)
Carrying the baton: Freshman David Frye from Leo High School runs the first leg of the 4x100 meter relay in the Illinois High School Association boys' Class 1A state finals May 25 at Eastern Illinois University in Charleston, Ill. The team placed third in that race and 12th overall in the meet. Other participating archdiocesan high schools in the Class 1A finals included Hales Franciscan, which placed 23rd. St. Ignatius College Prep placed fourth in the Class 3A state finals. St. Rita, Brother Rice and Marist high schools also went to the Class 3A state finals. (John Smierciak/Catholic New World)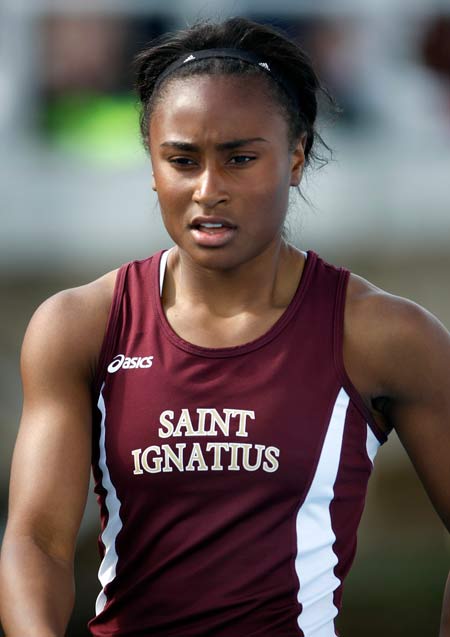 Hannah Cohn, a freshman from St. Ignatius College Prep finishes the Illinois High School Association Class 3A 200-meter dash finals at Eastern Illinois University in Charleston, Il. on May 18, 2013. (John Smierciak/Catholic New World)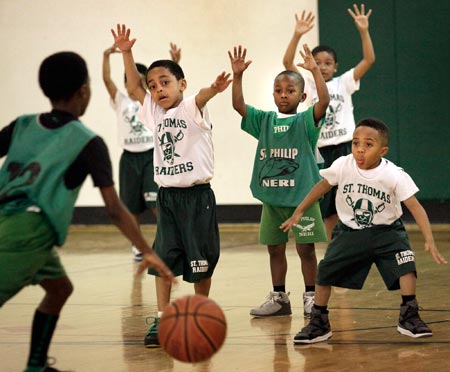 Elijah from St. Philip Neri School dribbles while Matthew Cleggs (left) and Aaron Gholston III of St. Thomas the Apostle School defend the basket on March 22. Jabari from St. Philip Neri looks for a pass (center). Students from area schools competed in a kindergarten through second grade basketball tournament at St. Thomas the Apostle School in Hyde Park.The rookie basketball players competed for team trophies during the two day event. (Karen Callaway/Catholic New World)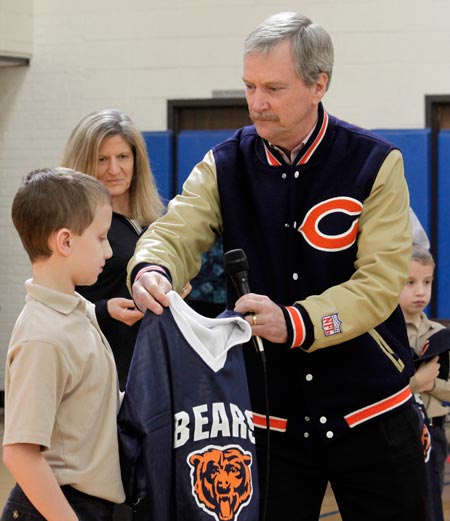 Jeremy Segreti is presented with a Chicago Bears shirt by George McCaskey, chairman of the board of the Chicago Bears on March 7. McCaskey surprised Jeremy and Joey Segreti, students at St. Francis Borgia School, 3635 N. Panama, during a school assembly to congratulate them on their participation in the NFLRush.com youth fantasy football league. Jeremy, a fifth-grader, placed first out of 130,000 players in the nationwide league. Jeremy also received a scholarship for winning the league. (Karen Callaway/Catholic New World)