November 23, 2008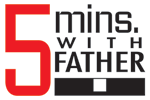 Farming and priesthood, each has its season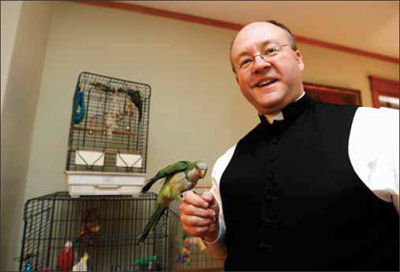 He is: Father Jeffrey Grob, new pastor of St. Celestine Parish, Elmwood Park. Ordained 1992, St. Mary of the Lake Seminary.
Ancestry: "I'm a full-blooded 'Kraut' — an only child — a 'cheese-head' from Wisconsin. Born and raised on a dairy farm. When my parents married, they moved in with my dad's parents on the farm in Cross Plains, west of Madison. It was a German farming community of about 3,500, including livestock!"
Farm life: "We milked about 80 head a day. Dad was an avid hunter, mostly venison, and we'd raise a steer and slaughter it for beef. We had our own dairy products from our herd of Brown Swiss, a breed known for their butter fat content. My grandmother loved it for cooking."
Was it a good life? "Depending on the year, farming is tough. It was a seven-day-a-week job. It prepared me well for priesthood in a sense. My father and grandfather milked our cows twice a day. Sometimes my grandmother helped, along with gardening and baking. When it was time to bale hay or harvest crops, neighbors would help each other out."
What about school? "I'm a 'lifer.' I've had one year of public education: kindergarten." After high school seminary and a year at St. Meinrad, Ind., he took four years out "to make sure priesthood was what I thought God was calling me to."
What did you do? "I worked in funeral service as an assistant embalmer and funeral director in Kenosha, Wis. I had worked summers during high school, cutting lawns and washing cars at funeral homes. Eventually I started helping inside the homes."
Do you regret those years? "It was time well spent. That's an incredible ministry. You can do so much good helping people through their grief and loss. But I came to realize the joy of priesthood is encountering people in many points in their life journey, not just at the end. Funeral service taught me, more than anything, how to live."
Was it depressing? "You have to decide how you're going to deal with it. Statistically there's a high rate of alcoholism among funeral directors. You can be sitting down at Thanksgiving dinner, and the phone rings and you go. And you're walking into someone else's grief — it's certainly a test of faith, too."
What did you learn? "You deal with people at all stages of their belief, disbelief or anger at God. Too often you would see someone walk up to the casket and address the 'person' behind the body, and say, 'Why did we fight, why didn't we …' So it's a teaching moment of asking why we hold on to grudges? A source for personal reflection. What stuff do I hold on to? It's a vocation — to bury the dead is a corporal work of mercy."
Why Mundelein? "Those years I worked in Kenosha got me hooked to Chicago."
Invitation: In 1998 he was invited to study canon law. He completed a masters program and then stayed for doctoral studies.
Priesthood & pastoring: "I love it all. It's long days and sometimes hard work, but then what isn't? There's a good sense of community and a good quantity of volunteering people here at St. Celestine's."
Packers or Bears? "I'm a Wisconsin Badgers fan. I actually went to more hockey games than football."
Day off: "I'm pretty much up every day at 5 o'clock — a carryover from childhood. I'm a movie-goer. I also enjoy the daily papers. I'll trot out to a coffee shop, read the papers, drink my coffee, and later maybe have a bite of dinner."
Prayer: "I try to do a yearly retreat to keep focused. The Benedictines were very good teachers for me. Personally, the liturgy of the hours has always been a source of grace, not a drudgery."