Advertisements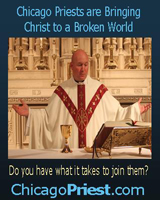 March 2, 2008
In the footsteps of the apostles: five years later Bishops Garcia-Siller, Kane and Paprocki
reflect upon their ministry and learning
March 19, 2003, was a chilly, damp day in Chicago, the kind of day when the dark skies made the city seem an inhospitable place.
But inside Holy Name Cathedral, the welcome could not have been warmer for three new auxiliary bishops who were ordained.
With worshippers packing the pews and shoulder to shoulder along the walls, two favorite sons — Thomas J. Paprocki and Francis J. Kane — and newcomer Gustavo Garcia-Siller became the newest shepherds of the church in Chicago.
Five years later, the men talked to the Catholic New World about what they have learned so far during their walk in the footsteps of the apostles.
Bishop Francis Joseph Kane
There's being a hometown boy, and then there's having a roots that go back almost to the founding of the city.
Bishop Francis Kane can trace his family tree back to the South Side, where relatives survived the Great Chicago Fire of 1861. His grandfather, at first thought to be missing, had joined in the effort to keep the fire from spreading south.
But he has spent his ministry as bishop on Chicago's North Side and in the northern suburbs, serving people who are diverse economically, ethnically and across generational lines.
But he is no stranger to his vicariate, having served as pastor of St. Joseph Parish in Wilmette for 10 years and lived at Our Lady of Mount Carmel Parish on Belmont Avenue while serving in administrative positions within the archdiocese.
Bishop Kane, who was the first director of the archdiocese's Office for the Ministry for Peace and Justice, said serving in the footsteps of the apostles has given him a new perspective on the church, beyond that of a pastor.
"It really has been an amazing time," he said. "You learn so much. The wideness and depth of church is amazing and truly edifying."
The life of a bishop follows a certain pattern according to the seasons, Bishop Kane said. He tries to visit each of the 62 parishes in his vicariate every year, visits which generally take place in the fall.
Spring brings lots of confirmations — including some during Lent, but most after Easter — and lots of meetings as the archdiocese prepares to move to a new fiscal year July 1.
"There are more meetings than I ever want to attend that are part of a bishop's schedule," Bishop Kane said. "But they are important, too, especially the meetings talking about the hopes and dreams of a parish or how to make the church work better."
Among the things Bishop Kane has learned, he said, is how important it is to be pastor not only to the people, but also to the priests. A bishop needs to be present to his priests and show them the care of a shepherd.
"The church is very deep and very wide," he said. "But it's also a church that needs to be very personal for people."
Bishop Kane, who said before he was ordained that he had expected to spend the rest of his life as a pastor, now loves his life as a bishop."There are days when I wake up and think this is some kind of a dream," he said.
Bishop Thomas John Paprocki
Bishop Thomas J. Paprocki knew the day-to-day duties of a bishop fairly well when he was appointed in 2003.
After all, he had served as chancellor of the Archdiocese of Chicago for eight years, starting in 1992 at the request of Cardinal Joseph Bernardin and continuing after the appointment of Cardinal George.
What he didn't know was how he would respond to his new position.
"The thing that has surprised me most is how much I've enjoyed doing confirmations," said Bishop Paprocki, who serves as episcopal vicar for Vicariate IV, which takes in a slice of the Northwest Side and the suburbs west of Chicago.
Bishop Paprocki said he likes the enthusiasm of the young people, eager to show their faith at confirmation, and he connects with them by using popular music.
"I usually sing in my confirmation homilies," Bishop Paprocki said, saying that he "stumbled across" the technique and found it helpful. "I use ColdPlay, Green Day, Linking Park. I won't even do the whole song. ColdPlay has a song called "Clocks" that has a line that goes, 'Am I a part of the cure or am I part of the disease?'"
That's a significant question for young people who are trying to figure out what to do with their lives and who they want to become, Bishop Paprocki said.
In addition to serving in his vicariate, Bishop Paprocki is Cardinal George's liaison to the Polish community in the Chicago area. Born to a Polish family that had been in Chicago since the 1890s, he did not learn Polish until he was an adult. In 1989, he attended the University of Lublin to learn the language.
In 2001, he was appointed pastor of St. Constance Parish on the Northwest Side. The parish then had four English and four Polish Masses each weekend. Chicago's Polish community is widely believed to be the largest outside of Warsaw.
Bishop Paprocki also is the cardinal's liaison for health and hospital affairs. He also serves as vice president of the Illinois Catholic Health Association and the episcopal advisor for the National Catholic Development Conference, an organization for Catholic stewardship and development professionals.
A canon lawyer as well as a civil lawyer, Bishop Paprocki was elected in November to be vice president of the U.S. Conference of Catholic Bishops' Committee on Canonical Affairs and Church Governance.
An avid athlete, Bishop Paprocki squeezes in early morning runs and late night hockey games in a league where he plays goalie.
Running, he said, gives him the energy to get the day started right. He ran his first marathon in 1995, and still tries to run one each year.
Late night hockey, on the other hand, "is a great release for me. I can put my day behind me, because as a goalie, you have to be totally focused on putting the puck in the net."
Bishop Gustavo Garcia-Siller
Bishop Gustavo Garcia-Siller was the youngest of the three, at age 46, and hardly known at all to the people he would soon be leading. His only visits to Chicago before his appointment was announced in January 2003 were to lead short missions.
"It took me all the first part of my ministry as a bishop to get to know the archdiocese and all the areas," Bishop Garcia- Siller said. "In the Midwest and Chicago, people are different, very much alive. They make their voices heard. They want to be appreciated, to have a say, in many areas. It could be political, economical or churchwise."
As epsicopal vicar for Vicariate V, which stretches from 18th and State streets in Chicago to 179th Street and Wolf Road in Orland Hills, Bishop Gustavo — as he has become known to parishioners — has responsibility for 82 parishes, along with dozens of schools, high schools, universities, hospitals and other institutions. Twenty- seven parishes have Spanish Masses and 20 have Polish Masses, but the vicariate has the largest concentration of Croatian and Lithuanian Catholics as well, along with the only Chinese parish in the archdiocese.
He also serves as Cardinal George's liaison to the Hispanic community, which makes up an estimated 44 percent of Catholics in the archdiocese of Chicago, and has taken up the cause of advocating for immigration reform and trying to alleviate the plight of immigrants.
An immigrant himself, Bishop Gustavo was born, raised and ordained a priest of the Missionaries of the Holy Spirit in Mexico. His order sent him to California to minister to Mexican immigrants there.
Less than two weeks before the papal nuncio called him and said Pope John Paul II would like him to become an auxiliary bishop in Chicago, he became provincial of the newly-formed U.S. province of his congregation.
"Before I came here, I never expected to be a bishop," he said. "It was very clear that God wanted me to be provincial. But with the calling and in answering the call, grace comes. That grace has allowed me to see the growth of people, the desire of the people to commit to God."
Being a bishop has also allowed him to connect with the church throughout the region, the country and the world, he said.
But his job is to further the mission of the church in Chicago, which is part of, but distinct from the mission of the universal church.
"The history of the church here is so rich," Bishop Gustavo said. "All the connections with politics, with the financial sector, the expansion of the place, with civil rights."
Bishop Gustavo said he appreciates Cardinal George, who cares deeply for the whole archdiocese, but allows the auxiliary bishops the authority to pastor their own vicariates.
"The needs of the people, and the way the church fills them, are beyond my possibilities, my energy and my gifts," Bishop Gustavo said. "But working with clergy, laypeople, men and women religious, it can happen."
He especially appreciates the efforts of permanent deacons, and has started a program, to support and offer them feedback in their ministry.
One area where he sees a great need is for Hispanic ministry, especially a need for more Hispanic priests. With 147 parishes in the archdiocese offering Hispanic ministry to some extent, and relatively few Hispanic priests, much of the work falls to laypeople, who have stepped up and taken responsibility — something that is at once beautiful and painful to the bishop.
He also has stepped up for immigrants, saying that "God has called me to open avenues of dialogue and help."
While he has always felt acceptance from the Catholics he ministers to, he did have one experience that allowed him to feel what it's like to be discriminated against.
Arriving at Midway Airport after traveling to Mexico to ordain priests, he was detained by immigration officials for 2½ hours, despite his status as an American citizen, while the Anglo priest he was traveling with was allowed through.
"People saw me and would say, 'Hi, Bishop,'" he said (Midway is in his vicariate). "I would answer them, and the men would say, 'Shut up! You're not allowed to talk!' I saw it as an opportunity to experience what other people experience."
Oftentimes, Bishop Gustavo said, he finds that he cannot accomplish as much as he wants. But always, he said, he can pray.
"My main work in the archdiocese is my prayer," he said. "In other things, I am powerless or I am not qualified. But I pray for people I have seen, in Back of the Yards, at the detention center. I don't even know their names, but their faces come to me."