Advertisements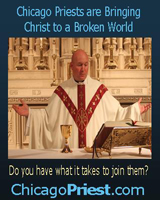 December 23, 2007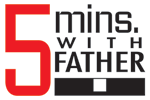 Jones chose priesthood over CIA, Pizza Hut
He is: Father David Jones, pastor St. Benedict the African-East; born 1962. Earned bachelor of science degree in economics at Grambling University, and Masters in Divinity from St. Mary of the Lake Seminary. Ordained by Cardinal Bernardin in 1989. Appointed president of Archbishop Quigley Preparatory Seminary by Cardinal George 2000-2006.
Home was historic Fuller Park: "My parents were very active in St. Cecilia Parish. Many of the children who grew up on our block and surrounding blocks were my classmates, even though many weren't Catholic. We were a tight-knit neighborhood, like family. Our lives continue to be connected. I grew up Catholic — my parents converted before they married. My older sisters are almost a generation away from me. They were part of St. Cecilia's. I was in third grade when it closed."
Taught by Mercy Sisters: "I still have contact with my first grade teacher and school principal at St. Anne's, Sister Carol Gussy. The nuns were frequent visitors in our home and we were visitors in the convent. In later years I met Sister Florentia [Flood] who told about putting me on the altar in the convent, as a baby, and praying I'd be a priest. She took credit for my vocation."
Choice of Quigley: "We were sitting on the porch — the pastor and my mom and dad. I was interested in a different school because a friend was going there, but Quigley would be a more challenging environment." After Quigley "there was a lot of pressure to go to Niles. That was the most rebellious I ever was, simply because they were making me do it." Instead, he went to Bradley University in Peoria on a scholarship. "Within the first year I felt it was just not a good fit." He wondered, "Are there schools for black people?" He found one in rural Louisiana — Grambling University.
A good choice: He received one- on-one attention from the professors, like a tutorial program, and he never wanted to leave. He had two job offers: with the CIA and Pizza Hut of America. "Pizza Hut turned out to be a better first job. You could always leave there in a way you couldn't leave the CIA!" After just six months under his management, his outlet, which was in the poorest area, had the highest sales volume among his peers. "I was arguing for the things we could do to honor customers and give them more than just pizza. I guess it didn't fit the corporate culture." His regional director said, "We're not a church."
Lightbulb goes on: He told his story to a Grambling priest/campus minister, who said bluntly, "You're just avoiding this 'call.'" "I hadn't meant to avoid any 'call.' Out of respect for him, I started giving priesthood a thought." The vocation director for the Shreveport diocese, where Grambling is located, accepted him as a candidate, and he entered seminary. But a conversation with the bishop the following year made it clear that Shreveport was a large diocese and one Jones didn't know at all. Not long afterwards, he spoke with Bishop Wilton Gregory and then-Father Gerald Kicanas who was rector at Mundelein. "Somewhere in there it just made sense to come home to St. Mary of the Lake."
Training at Mundelein: "At the time I was the only African-American at Mundelein. Father Kicanas was a sensitive person, and I knew him at Quigley as well, so there was a personal connection." He found particular nourishment in the National Black Catholic Clergy Caucus and its Black Catholic Seminarians' association. He got involved and was able to meet seminarians who were like himself. "None were in Chicago, but they had a yearly meeting and there were ways of corresponding."
Black parish experience: "As a seminarian I was fortunate to be invited to a number of black Catholic parishes. I got to meet wonderful supportive people and pastors. I had the freedom to say I'd like to do it in this way." Between the faithful, pastors and national organizations, his priestly foundation was shaped.
Mentors: "It's a mix of people. I remember priests' preaching style, or the way they celebrated Mass and that goes all the way back. I wish I knew those folks now as an adult. One of those who rises to the level of mentor, who was available and supportive was Archbishop Anthony Mayala of Mwanza, Tanzania. When Archbishop Mayala was a seminarian he studied at CTU and was involved at St. Charles Luwanga Parish where we first met. Right before ordination Cardinal Bernardin suggested I visit him in Tanzania. That turned out to be a wonderful retreat experience."
Motto: "To God be the glory."