Advertisements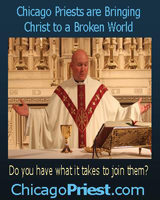 August 17, 2008
Maryville Academy celebrates 125 years
One hundred twenty-five years ago, Archbishop Patrick Feehan founded St. Mary's Training School for Boys in what was then a rural area near the Des Plaines River.
The school was intended to offer a home to the boys roaming the city in the wake of the Great Chicago Fire, some homeless, some parentless, all at loose ends.
Now, Maryville Academy continues to serve young people by providing structure and care. But its mission and scope have expanded to take in the very young and very ill, whose parents might need help learning how to care for them after being released from the hospital; to older adolescents and young adults, who might need, mental-health services to get their lives back on track; to fathers, both teens and adults, who want to learn how to forge emotionally healthy, nourishing relationships with their children.
Emerged for the better
The transitions have not always been easy, but Maryville has emerged from them for the better, said School Sister of St. Francis Catherine Ryan, executive director for the past 2 1/2 years.
"Over 125 years, the basic needs of children stayed the same," said Ryan in a telephone interview. "But the emphasis on their other needs has changed. The children coming to us now need a clinical model of care as well as safe homes and strong education."
Maryville is now a smaller organization than in 2002-2003, when Maryville was rocked by the suicide of a 14-year-old girl, reports of physical and sexual assaults perpetrated by residents on other residents and, eventually, charges of sloppy accounting.
At the time, experts questioned whether Maryville could continue with its "family teaching" model, assigning troubled young people to homes led by staff. In September 2003, the state Department of Children and Family Services pulled all of the children under its care out of Maryville's Des Plaines campus.
Now Maryville is operating its three campuses for adolescents — in Des Plaines for boys and in Bartlett and Durand, Ill., for girls — on a more clinical model, using a technique called "milieu therapy."
"The idea is that everything we're doing impacts the wellbeing of the child," said Ryan, an attorney who headed the juvenile division of the Cook County States Attorney's Office before coming to Maryville. "Makes a lot of sense when you think about it."
The change reflects a longtime move on the part of the State of Illinois to not only keep as many children with their families as possible, but to care for children in foster-home settings whenever possible. Residential care centers such as Maryville generally are reserved for youths who are not good candidates for foster care, and often are more troubled, Ryan said.
To keep children in the therapeutic "milieu," Maryville has started its own school on the Des Plaines campus.
Changing times
It's not the first time Maryville has remade itself. In the early 1970s, Father John Smyth, the longtime executive director, demolished dormitories in favor of the family cottage-style housing, putting Maryville in the cutting edge of the "family teaching" movement.
But before that, St. Mary's Training School for Boys, which started as a working farm, had housed children in large-scale dormitories, then smaller scale "halls" of 29-25 students, then smaller dorm rooms.
It also has survived the deaths of five young Native Americans in 1883; a fire that destroyed the central building complex in 1899; the decision to house all homeless Chicago children, by that time including girls, in 1911; and the opening and closing of various elementary, vocational and high schools, financial strains and changes in the Illinois child welfare system.
"The children who come to us today have experienced severe trauma at home or somewhere else, and often have difficulties with substance abuse or developmental delays," Ryan said. "In the end, however, they are children who need to be given the opportunity to have a stable environment and to become productive adults. This is what we are trying to provide."
To that end, the Maryville Foundation, still headed by Smyth, pays for post-secondary school for any Maryville alumnus who is admitted to a college or vocational training program. Several dozen are currently enrolled, Ryan said.
At the same time, Maryville has refocused to help families stay together during times of stress. Two of its newest initiatives — the Maryville Crisis Nursery and the Children's Healthcare Center — work to that end. The crisis nursery provides a haven for young children whose parents are temporarily unable to care for them.
Parents have used it when they have to be hospitalized for a surgical procedure, for example, or a family is seeking housing after a fire, and they have no one else to care for their children.
The Children's Health Care Center provides a transitional place for young children who are discharged from the hospital whose parents are not ready to care for them at home, perhaps because they don't yet know how to use new equipment or need time to learn new procedures.
Still caring for kids
After the scandals of the early 2000s, many people wrote Maryville off, Ryan said. They don't know that the state Department of Children and Family Services resumed sending children to Maryville last year — now more than 100 of the roughly 200 youngsters Maryville has in its residential care programs — or that Maryville is fully accredited by the Council on Accreditation.
The agency used its 125th anniversary celebrations to help get the word out, having some of the members of its active alumni organization join with current Maryville clients to carry 125 roses to the altar at a July 26 Mass celebrated by Cardinal George.
"What Maryville is about is promoting the dignity of our children and giving them the skills they need to be productive adults," Ryan said.