Cardinal Cupich's Column
February 7 - 20, 2016
'Renew My Church' Dreaming Big about the Archdiocese of Chicago
Americans are known as a people who dream, and dream big. As a country of immigrants, dreaming is in our national DNA. The dream of a better life gave immigrants the courage to leave their families and ancestral homes and start over. Their dreams sustained them as they shouldered unimaginable burdens, inspired them to take risks, and gave them the daring to do things never done before.
And just as dreaming big has distinguished us as Americans, it has also marked the Catholic Church in this country, particularly in this archdiocese. Catholic immigrants came to this land not only with their dreams but also with their deep faith, energizing them to build churches, schools, and hospitals. They formed and sustained vibrant communities, enriched by the cultures of their places of origin. Responding to the Great Chicago Fire of 1871, Catholics drew on the resilience they learned as immigrants to rebuild. Like the mythical phoenix, which today adorns the crest of the Archdiocese of Chicago, these hearty dreamers lifted themselves from the ashes, making the Church even more vibrant and alive.
As the first American pope and a son of immigrants, Pope Francis is calling the entire Church to dream, and dream big. He wrote in "The Joy of the Gospel": "I dream of a 'missionary option,' that is, a missionary impulse capable of transforming everything, so that the church's customs, ways of doing things, times and schedules, language and structures can be suitably channeled for the evangelization of today's world rather than for her self-preservation."
I have long shared this dream. It was a dream that began to stir in me when I entered the seminary just after the close of the Second Vatican Council. Over my 40-plus years as a priest, I have become even more convinced of the great potential of our parishes, when vibrant and alive with the Gospel, to transform lives and make a singular contribution to the world. That conviction has only increased since becoming archbishop of Chicago, as I witness every day a vitality in our parishes that enriches the lives of so many people.
Admittedly, the fulfillment of this dream is a patchwork of success and failure. Every parish has its strengths and weaknesses in fulfilling the mission of Christ. While measuring parish vitality is complex, if I were asked to describe a parish of my dreams, it would be a parish that adopts and pursues these seven priorities:
1) We bring people to Christ: The parish strives to evangelize its members to live more fully as intentional disciples. In turn, the parish's intentional disciples are continuously evangelizing others by making known the presence of the Church and Christ's mercy in the midst of the community.
2) We support each other in knowing Christ more deeply: The parish enables a lifelong process of formation for deepening one's faith and relationship with Christ by passing on the church's teaching and Tradition to parishioners of all ages.
3) We encounter Christ and receive nourishment through prayer and worship: The parish is intentional in developing a culture and tradition of prayer, devotion, and well-prepared liturgy, with the Eucharist as the "Source and the Summit."
4) We build bonds among each other to sustain our life in Christ: The parish represents a genuine Catholic community that is conscious of its solidarity in Christ with the entire church of Chicago and the Universal Church. It is inclusive and harmonious, respecting and appreciating diversity in all its forms as an asset in worship and community life.
5) We transform the lives of others through service as Christ's missionary disciples: The parish prepares and sends parishioners as missionary disciples into the world to transform society with the joy and truth of the Gospel. The parish is a beacon of faith and an advocate for justice and peace, reaching out in love to all who are in need, on the margin of society, or who live in fear and loneliness.
6) We respond to the call to holiness by journeying together with Christ: The parish accompanies the baptized on life's journey to become more Christcentered, resistant to sin, merciful, continually attentive to building a mature, well-integrated adult spirituality, and committed to charity, peace, prayer, and virtue.
7) We take responsibility for administration and leadership of the parish as good stewards of the gifts Christ has entrusted to us: The parish thrives under the visionary leadership of the pastor, who works in collaboration with his associates, staff, and the laity to ensure that the parish's mission can fully flourish as a result of proper administration. The parish fosters a culture of stewardship and a spirituality of gratitude that inspires parishioners to generously share the gifts Christ has entrusted to them in support of the mission of the church through the parish, the archdiocese and in the world.
This is the dream I have for all our parishes, and why I am inviting everyone in the Archdiocese of Chicago to join me in a multi-year planning process to make it a reality. Just as our ancestors responded in faith to their dreams and built the church we have today, it is our time to dream big and to take up this work. It will take a steady faith — a faith that is imaginative, that strengthens us in the knowledge that Christ is leading us. This faith will keep us together. It will steel us to make the bold decisions that will shape the Church for generations to come.
We approach this work at a moment when the church is graced by the leadership of Pope Francis, who has been quite forthright in sharing his hopes and dreams with us. His namesake, Francis of Assisi, did the same in his time. In an era of menacing challenges within and outside of the church, he was given a dream about what the church could be and responded to Christ's urging to renew it.
You may know the story. Visiting the dilapidated Church of San Damiano, Francis heard Christ speak to him and urge: "Go rebuild my church." In time, Francis came to understand that Christ was calling him to renew the church, not just rebuild a structure. That is the task before us and the reason this important process takes its name: "Renew My Church."
The San Damiano cross has much to offer in helping us keep our focus as we move forward with this initiative. It portrays Christ dying on the cross, yet still living as he calls to Francis. At the same time, the eyes of the dying Christ are focused above on the scene of the resurrection, and he is surrounded by communities of disciples.
The message of that scene is clear: The dying and rising of Christ continues to take place in every age in the dying and rising of the church. The mission of proclaiming Christ, who died and rose to save the world, will require a church that is made ever vibrant and more vital by the sacrifices of every generation. It also will require a church whose community is united in taking up this work. Indeed, we all have a stake in this renewal.
Over the next few weeks and months, you will be hearing more about this effort as we engage various groups in a series of consultations, some of which have already begun with our clergy. As I wrote in a letter to all parishes last October, the archdiocese has changed in significant ways over the past several decades. Demographics have shifted dramatically. Some of our parish buildings are in disrepair. We have fewer priests to pastor our faith communities. The result is that we end up spreading our resources too thinly. We should not be afraid to face these realities, but rather see this moment as a graced opportunity to chart new ways to live out our mission more fully.
Addressing this situation will require a good deal of prayer and humility, hard work, tough choices and new sacrifices. I would be less than honest if I did not acknowledge that by the time this consultative process is complete, we will mourn together the loss of some parishes. But that will not be the final word. By having the boldness to leave behind familiar ways of doing things, we can seize this season as one that is not simply of loss, but rather of renewal. This is the dream God is calling us to, and that will sustain and unite us.
We begin this process during the Jubilee of Mercy, which Pope Francis has defined as a time for the universal church to rise, to renew and reimagine herself. Imagine, having just entered his eightieth year, he is urging Catholics to be young again in our dreams about the future of our church. This is the pathway of people on the move, of immigrants who pursue their dreams, inspired by their faith. This is the pathway the first immigrant and first American pope is charting out for the church in our time. Let his example and his hope for what our parishes should be inspire us as we begin this work:
"I hope that all communities will devote the necessary effort to advancing along the path of a pastoral and missionary conversion which cannot leave things as they presently are," Pope Francis wrote in "The Joy of the Gospel." "'Mere administration' can no longer be enough. Throughout the world, let us be 'permanently in a state of mission.'"
Now that is what it's like to dream big.
Cardinal Cupich's Schedule
Feb. 10: 8 a.m., Ash Wednesday Mass, Holy Name Cathedral; 10:30 a.m., Catholic Extension Society Executive Committee Meeting, Quigley Center; 5:15 p.m., Mass at St. John Paul II Newman Center, Chicago
Feb. 16: 10 a.m., Episcopal Council Meeting, Residence
Feb. 18: 11:30 a.m., Ordination and Installation of Bishop- Elect James Powers, Superior, Wisconsin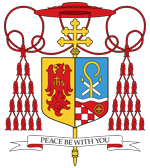 Clergy Appointments
Archbishop Cupich approved the following appointments:
Associate pastor:
Rev. John Sullivan, to associate pastor of St. John Fisher Parish, South Washtenaw Avenue, effective immediately.