February 17 - March 2, 2013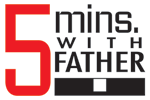 His road to ordination wasn't paved with yellow bricks
He is: Father Edward Mikolajczyk, pastor of Queen of Martyrs Parish, Evergreen Park. A member of the cardinal's College of Consultors, former chair of the Presbyteral Council 2007-2010, and served six years on the cardinal's executive committee. Taught at Quigley South and Archbishop Quigley seminaries for 20 years. Ordained at Mundelein in 1973.
Youth: "I grew up on the Southeast Side, in South Chicago, Immaculate Conception Parish, at 88th and Commercial. Not too far from the steel mills." He has a twin brother and a younger brother. "Dad was a material foreman for RR Donnelly, the printing company that did the Yellow Pages and Sears catalogues. Mom worked for Donnelly's for a while, but when the children were born she stayed at home with us.

"My mom lived across the alley from my dad when they were growing up. That's how they met. My parents, my brothers and I, all attended Immaculate Conception. It was kind of a family thing. Our parents were married there, my two brothers were married there, and I said my first Mass there.

"Dad worked nights and Mom had us all day long. So she was probably the disciplinarian. Mother was a wonderful woman — a great baker and cook. She learned a lot from my grandmother — those Polish recipes we enjoyed as kids that called for 'a little bit of this and a little of that.' Because we didn't have sisters, mother taught us boys basic cooking and cleaning skills. My best dish is my green pepper steak."
Jobs: "I worked at Republic Steel and at US Steel for a couple summers in college. I also worked at the concession stand at Rainbow Beach in the summer season, and was a 'Yellow Jacket' (counselor) at Maryville a couple summers before I was ordained a deacon."
Student and teacher: "One of my role models while I was a student at Quigley South was Father Paul Marszalek, a resident at our parish. I admired him as a priest." Later, during Father Ed's own priesthood, he taught religion and vocation formation in the high school seminaries, and was dean of discipline. He says, "My philosophy was to try to be consistent and fair."
Prayer: "I pray in the morning. With the schedule I have, you fit it in where you can. For retreats I like Stritch Retreat House at Mundelein. I should be there this week but I had a number of funerals and couldn't get away." He has no associate in the rectory.
Down time: "I'm a Minnesota Twins fan. I used to be a Sox fan — but around 1960, when I was in seventh or eighth grade, the way they treated my idol Nellie Fox — I couldn't deal with it. I admired Harmon Killebrew, so I went with the Twins. It makes for great family rivalry — my twin is a pure Sox fan, and our other brother is a Cub fan. I've seen the Twins in Florida spring training and I've been able to see them play at their new Target Field.

"I like card games. Someone taught me 'Hand and Foot,' and I've come to enjoy it. There are 2-6 players and each one gets a deck of cards. I used to enjoy canasta, but never got into bridge. I enjoy board games too."

He's a great Wizard of Oz fan. "That was one of my all time favorite movies. My favorite character is Margaret Hamilton as the Wicked Witch of the West. I've never been to Oz Fest in Indiana, because it's the same time as our parish fest. But through a friend I had a chance to meet one of the original Munchkins."
Saints and Scripture: "My patron saint is St. Edward the Confessor. They don't celebrate his feast day on Oct. 13 anymore, but I still do. My favorite Scripture verse is from Paul's letter to the Philippians, 1: 3 -- 'I give thanks to my God every time I think of you, which is constantly, in every prayer I utter — rejoicing, as I plead on your behalf, at the way you have all continually helped promote the Gospel from the very first day.'"