January 20 - February 2, 2013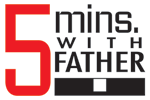 The Lord found him south of the Mason-Dixon line
He is: Servite Father Joseph Chamblain, pastor of Assumption Parish in River North. Ordained in 1984.
Family life: "Growing up in Memphis, Tenn., in the '50s and '60s, I had a different experience with church than many people in Chicago. Catholics were maybe 5-10 percent of the population. In the South, particularly when Mass was in Latin, Catholics were considered a strange cult with odd rituals, the way some people relate to Mormons today. I remember other kids in the neighborhood asked if Catholics were really Christians -- we were so different from the "real" churches.
"I'm an only child. My mother was from one of the original Italian families in Memphis. Her family was there for many generations. My dad was not raised with much religion, but was baptized a Catholic some years before he married my mother. They were children of the Great Depression.
"My dad had to quit school after the 10th grade because he had a job, and his father didn't, so he was the sole support of the family. After serving in World War II he got involved in advertising art and package label designs. He had steady work, but never advanced much in his career because of his lack of formal training, but he was talented.
"When the Mass changes came in the 1960s, my dad had a hard time adjusting. He really liked the church the way it was when he'd joined in the late 1930s. Eventually he accepted everything except singing the 'Battle Hymn of the Republic' at Mass. As a good Confederate his position was, 'They're not making the enemy war song part of my religion.' Dad died from a heart attack in 1993 coming out of church after Mass, at which the final hymn that day was the 'Battle Hymn of the Republic.' To me that proves God has a sense of humor."
Why Servites?: "In grade school I'd hoped to become a priest. In high school I pushed it aside deciding I wasn't the type. I got a degree in library science at the University of Illinois in Champaign and worked a couple of years as a librarian. Part of that time was here in Chicago where I met the Servites. I'd thought once I got settled in a job this vocation thing would go away. But I found I had to give it a try."
As a priest he's served parishes in New Jersey and St. Louis, was assistant provincial, the shrine director at Our Lady of Sorrows Basilica, and director at the National Shrine of St. Peregrine here. He also got to experience the church in Zululand in rural South Africa.
Community appealed: "I don't know if anyone can explain it 100 percent. At the time I'd been living by myself in an apartment for a couple of years and maybe it was, 'I don't want to live this way the rest of my life.' I visited several communities and it was, 'Where do you feel at home?' We sometimes grow up with the idea, if you're attracted to something or it feels right, that's not God's will. I've changed my mind, and believe God works through our feelings and our comfort level, and sometimes more instinctively rather than intellectually you know something fits."
Prayer life: "We attempt to have community prayer at least once a day in all our communities. On the side I find praying with Scripture very helpful and try to have at least one spiritual book going at a time. Anything by Merton is rich. I've read John Neuhaus' 'Death on a Friday Afternoon' several times. Then a different book, by Philip Yancey, 'Soul Survivor' — he's also a southerner, but not a Catholic southerner. He talks about surviving the church and being inspired by certain individuals that helped restore his faith after unfortunate experiences with church.
"Regarding my ministry of the last 28 years, the biggest personal challenge has been to remember I'm the pastor and not the Messiah. It's not my job to have all the answers. Often members of the community have the answers people need. So I try and create a community where eveybody's input is welcome and keep my own human limitations and prejudices from interfering with that process."
A River North Parish: "This is a fascinating experience. Assumption was the original Italian parish for Chicago and then for many decades there were no people living around here. It primarily served the downtown office and factory workers in River North. It's been the last dozen years or so that this has become primarily a residential community again. It's like starting the parish again, trying to create structures and ministries other parishes are used to. We're a mix of retirees or semi-retired, who sold their family home in the suburbs and moved to a place downtown. We have young adults from other cities with jobs in Chicago now, and some intentional parishioners whose families have been associated with Assumption for generations. There are hotels around here and the Merchandise Mart, two blocks away. We're ministering to the downtown people and parish population during the week and visitors on weekends."
Leisure: "I'm probably not as faithful to a day off as I should be, but I enjoy taking in a movie or a play. I've had a hobby since a teenager of collecting railroad timetables. And I like renting a car and visiting national parks or a part of the country I've never seen. My undergraduate degree is in English literature so I try to keep a novel going."
Favorite Scripture verse: "'To whom shall we go?' In today's culture that response Peter gave Jesus is the question facing all of us. Our faith involves a daily commitment to follow Jesus and there's lots of other options. I like that Peter says, 'Yeah, we could do something else, but you have the words of eternal life.' So the bottom line is, where else would we go?"