February 28, 2010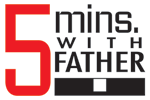 Prayer, people and a good mountain to climb
He is: Father Mark Bartosic, pastor of St. Frances of Rome since 2001 and Our Lady of Charity since last July. Both in Cicero. He is dean of Vicariate IV, deanery C.
Youth: Has five brothers; one sister. "Dad was a salesman so the family moved around a lot. My mother finally put her foot down." His dad eventually bought a printing company in Ashland, Ohio. After grade and high school, "I graduated from Ashland College in Ohio with a degree in theater."
Road to priesthood: "I moved to Chicago to be an actor, working for the Chicago Shakespeare Company for about six years. It doesn't exist any more. We rented from Second City for a while." In 1989, he entered Mundelein and was ordained in 1994. "It probably was the result of the prayers of a nun who noticed me in middle school and my parents, supportive of priests and the church. I only went to Catholic school in seventh and eighth grades."
Prayer: "I get up at six and go over to church and pray until seven. I do morning prayer, the rosary and just finished a novena to Mother Teresa. The hour goes by quickly. Then I come back and either start working or go for a run. I have Mass at eight."
He made a weeklong retreat in Ars, France, in September. "It was wonderful. Cardinal Schonborn from Austria gave it. It marked the 150th anniversary of St. John Vianney's death."
Favorite saint: "I was born on the feast of St. Aloysius, so I like him. I'm very much taken with the Cure d'Ars. I really like reading Teresa of Avila and John of the Cross too."
Down time: "First thing has to be very strong coffee in a particular café with a book for at least an hour or two or I don't feel I've had a day off. In summer I bike by the lake and maybe meet someone for dinner.
"I like French cooking. I'm not that good at it, but if I make something with beef, spices and wine, that simmers in the pot a long time, everything is tasty."
He speaks Spanish and French. "Fifty percent of my OLC parishioners and 80 percent of my SFR parishioners are Latino. I studied French through a friend from France when I was at Mundelein "
The pope wants priests to use social media. Are you ready? "I do e-mail and that's it. No Twitter or texting. But maybe I'll be on MySpace some day, who knows?"
Metaphor and mountains: "One of my seminal experiences was hitchhiking through Europe for four months right before seminary. I was by myself, not knowing where I'd end up, or where I was going to sleep. It was terrifying but exhilarating.
"The mountains are a little that way, especially when you've never been on the trail before. I took a weeklong hike around Mount Blanc in Switzerland in 2007 with my sister. She's the oldest and unmarried, so the two of us hang around a lot.
"I had a wonderful trip in the White Mountains of New Hampshire that was unforgettable. I like the exertion, just having to get through it. Kind of cleanses your mind and lets you get up the hill, across it and down again. I really like 'being on the road.'
Favorite Scripture: Psalm 115: "How shall I repay the Lord for all his goodness to me?"