Advertisements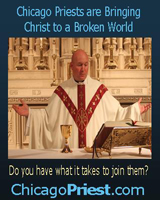 July 5, 2009
When a baby dies
One couple's experience helps others know they can bury their child after a miscarriage
Ignatius Maria was buried May 15 at St. Joseph Cemetery in River Grove.
The baby, who died before reaching 12 weeks of gestation, was taken from the mother's womb surgically after dying unexpectedly. The parents, Christine and Nicholas Lund-Molfese, do not know whether it was a boy or a girl. But they do know the baby was human, and they wanted to make sure the baby received a proper and respectful burial.
But it wasn't easy getting to that point, even though the couple are quite familiar with the church's teaching and knew what they wanted to do, and the surgery was performed at Gottlieb Memorial Hospital in Melrose Park, which last year became part of the Loyola University Health System.
In fact, the Lund-Molfeses chose Gottlieb because it was part of Loyola, a Catholic hospital system, and they believed their Catholic beliefs would be understood and honored.
But when they were preparing for the surgery on May 12, they were taken aback by the reaction they got.
Devastating news
Christine Lund-Molfese, who already has five children and had never miscarried, went to the doctor that day for what she thought would be a routine prenatal appointment. When the doctor did an ultrasound exam, she looked at the image on the monitor and admired her child. Then the doctor broke the bad news: there was no heartbeat. The baby had died, most likely a few days before, and would have to be removed from her body immediately to avoid infection.
Christine called Nick, who is the director of the Office of Peace and Justice for the Archdiocese of Chicago, and he came to be with her.
They spent time outside, enjoying the spring weather.
"I just really felt the baby's presence in everything around me," Christine said, describing a feeling of sadness, but also peace. Nick, meanwhile, was on his cell phone, trying to arrange for a burial.
"You have a death. You have a burial," he said. "There are emotional issues, but there are also practical problems."
Then, when they went back inside to prepare for surgery, they were presented with a form that asked what should be done with the remains of the child: allow the hospital to dispose of them, or retain them for burial.
"The nurse who gave us the form was almost apologetic that she had to ask that," Nick Lund- Molfese said. "She said just to let the hospital take care of it. She said, 'It's medical waste. That's what people always do.'"
When the Lund-Molfeses said they wanted to bury the remains of their baby, the staff had to scramble to find out what to do, eventually handing Nick a name and telephone number handwritten on a sticky label, with instructions to call within 24 hours.
The procedure went uneventfully, and Nick Lund-Molfese made the phone calls, went to JoAnn Fabrics, bought a wooden box to hold the remains, picked them up from the pathology department at the hospital and delivered them to the cemetery, where the family bought a $75 plot, for burial.
Nick spoke about what happened, he said, because he doesn't want other parents to feel as lost as he did.
Before 21 weeks
Generally, such issues arise when a baby is miscarried before 21 weeks gestation. After 21 weeks, babies who die are released to funeral directors like other people, Lund-Molfese said.
Anne Dillon, director of media services for Loyola University Health System, said in a statement that Loyola and Gottlieb have had a strong working relationship for several years, and that Gottlieb revised its health service offerings to be in line with the Ethical and Religious Directives for Catholic Health Care Services when Gottlieb became part of Loyola University Health System in 2008.
"However, when the affiliation became official, more formal training of staff began to ensure awareness of Loyola's protocols for care," Dillon said. "Special training has been provided to the appropriate Gottlieb staff, where awareness of the Catholic directives and traditions are critical. In the case of miscarriage, Gottlieb follows the same protocol as Loyola: We honor a parent's choice to bury the remains of a miscarried fetus, even before 20 weeks' gestation, when most other hospitals in Illinois would classify the remains as a 'surgical specimen.'
"As with all new affiliations, it sometimes takes longer for staff members to learn the nuances of communicating within a new culture. Although federal privacy laws will not allow us to comment on a specific patient case without express written permission, we know that the staff member did follow both the state law and Loyola guidelines, but her verbal response was not at the level of sensitivity equal to Loyola's firm commitment to honor the dignity of babies who die before birth. Loyola and Gottlieb staff have held an educational session, so that staff in both obstetrics/gynecology and in surgery know how to have a conversation about miscarriage remains that is sensitive to the beliefs and values of Catholics." (Full Statement)
A worthy burial
Erica Laethem, a clinical ethicist for Resurrection Health Care in Chicago, said Catholic teaching and practices affirm the human dignity of the child who dies in miscarriage or stillbirth.
While it may not always be possible to keep the remains for burial, as is sometimes the case when a woman miscarries earlier in pregnancy and at home, they should be given a worthy burial, if possible.
From the moment of conception, each human being has the dignity inherent to a human being, Laethem said, "As persons created in the image and likeness of God, we have intrinsic dignity. We are body-soul creatures, and the body shares in the dignity of the whole person," she said.
"It's important to treat the mortal remains with the greatest respect, and in accord with this dignity, they should be given a respectful burial."
To make sure that happens, she said, the parents should talk to their doctor before the procedure if the doctor is going to remove the remains from the mother's body to let them know that they would like to preserve their child's remains.
Encouraged to grieve
Acknowledging that the parents have lost a child helps them grieve and eventually heal, she said. "I encourage couples to grieve the death of their son or daughter, to name their child, to have a funeral if they wish, and to bury the remains respectfully," she said.
"It's very important to acknowledge the life that was growing inside the womb. We encourage them to trust in God and also to hope that by God's mercy, they will see their son or daughter again."
Because Resurrection Health Care is Catholic, no miscarried or stillborn babies are disposed of as medical waste, she said.
"If a woman has a miscarriage or a stillbirth, we will always try to preserve the baby's remains, even if a woman miscarries at an early stage," Laethem said. "We inform her that she has an opportunity to arrange for burial or cremation, and if she chooses to do that, we'll provide her with a death certificate and arrange to have the remains transferred to a funeral home. If the mother has decided not to that, we will arrange for them to be buried in an unmarked grave in a cemetery."
Privileged ministry
That's an arrangement Catholic Cemeteries has with Catholic hospitals throughout the archdiocese, said Deacon Glenn Tylutki, outreach director for the cemeteries. Funeral directors — some volunteers, some under contract to the hospitals — will receive the remains and transport them to one of the designated Catholic cemeteries.
The burial of these little one's is a privileged part of the ministry that Catholic Cemeteries extends as a visible sign of care, concern and solidarity with those who have suffered such a personal loss, Tylutki said.
This cemetery burial accommodation is extended to all the Catholic hospitals within the archdiocese as an integral part of the Catholic Cemeteries mission of being an extension of a welcoming faith community.
Upon arrival at the cemetery, prayers are recited and the remains are buried within the cemeteries' Holy Innocents Section in a common, unmarked grave.
However the Catholic Cemeteries also offers additional options for families who have chosen to have their babies individually buried. Burial may take place in a grave with a family member, provided there is room and the lot owner gives their written consent and approval.
Or for a very minimal cost, a family may choose a grave within the Holy Innocents Section of any of the Catholic cemeteries, which will then allow them the opportunity to memorialize their little one with an individual flat marker. As a gift to the family, Catholic Cemeteries always waives the customary fee for the opening and closing of the grave.
"Whether the life is only visibly microscopic or further in the gestation period, it was and will always remain a child of God and as such is worthy of the respect of being buried in sacred ground," Tylutki said.
"The beauty of our Catholic faith experience is that we truly are and become one body in Christ. As such, may we always heed and daily renew Christ's words to us … 'Let the little ones come unto me.'"